Hello there everyone!
I'm Gozere, from the Arachnaea server. Couple of things I wanted to talk about, hopefully to give you some information, and hopefully we can get enough behind us to actually get them to address this issue.
So, first of all, let me say that this issue is completely cosmetic, meaning that any changes that would be made to fix this problem wouldn't affect game play in the least, so it's a non-issue.
1. The 'Eligible as Template' Ninja Nerf. I haven't seen ONE official post saying ANYTHING about this, but before the OPEN beta, in the closed betas, some items that would drop would have a very low chance of being 'Eligible as Template' meaning that you could use them as armor templates to change the appearance of your armor. Before the open beta, you could find these items on the Auction House for fairly cheap and use them to change your armor's appearance. There hasn't been a single one since, nor a drop. The only items now that are eligible as templates are crafted items and the templates available from the vendor.
While I can see the reason for removing these drops ( to encourage crafting ) taking them out completley has had one huge side effect.
2. Items that previously could have been farmed for the look of the templates are no longer available as viable armor choices at end game.
For example : There are a couple of really neat armor types that drop in the level 58 range that have some really nice designs, however, they aren't really viable at end game, and since the chance to get one eligible as a template is now 0, you can never use this armor at endgame on your character. BECAUSE of :
3. Crafting cannot craft all the item templates : From what research I've done, it appears that with leatherworking, tailoring, and armorsmithing, that once you reach about 250, every chest piece you make from then on has the same design, just a different color. The one at 410 also has a different design, but it appears to be the same as one available from the vendor.
Basically, to make a long story short, what this means is that some of the VERY pretty armor patterns contained in this game can't be used at end level with your character. I don't know if this is Enmasse's or the Dev's intention, but something tells me it isn't.
A couple of really easy fixes :
The easiest of course would be to just put some of the previously unavailable templates on the template vendor for very expensive amounts. I however, don't like this choice, I would rather it be something harder to obtain.
Second easiest would be to put back in the drops, make it so if there's a nice template that drops from say Akasha's Hideout, you could go back into it at 60 and farm for the drop, so you could use it to transform your current armor.
The harder one ( however still fairly easy ) would be to change the patterns for the items at crafting levels above 250. Instead of every 10 points the armor's color changing, how bout the pattern changes? Or every 30 levels? Just so all those nice armor would be available on your characters.
TL:DR : Not all armor templates are available. If you wanted to wear the piece below, you can't craft it, nor can you buy the template, if you were lucky enough to find the drop, you would have to wear an inferior piece of armor to look like this, because you can not transform your armor to look like this. If I'm off base here please someone tell me, but as far as I can tell this is what it looks like to me.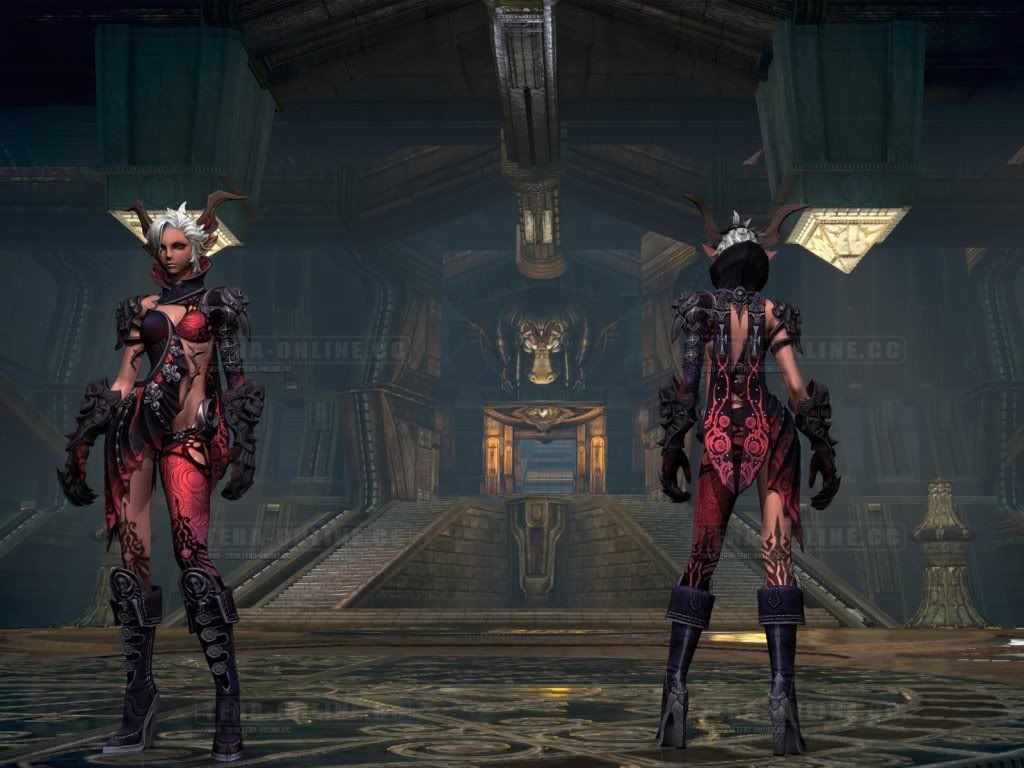 Edited by:
Gozere
over 1 year ago