Prologue:
Where i liked the prologue idea, it's implementation seems like it will turn people off from some classes. I didn't play it with every class. I completed it with the priest and warrior. Priest was ok. Warrior was difficult. They should add a healer companion type person to the prologue so that the melee classes don't get discouraged. No one likes to die in a tutorial.
Early game play:
The island of dawn seemed better than the rest of the areas to handle higher populations. Acadia was initially limited to 4 channels causing a bottleneck at Tenenbrous. The kill credit is odd for quests. Tag it first and do 51% damage. The idea is good the practicality later is kind of problematic for named mob spawns. There were 5 - 10 groups of people all trying to get the kill at once. We had to form a line and take turns (OMG so civilized) but people don't like to follow instructions sooo it was a rather annoying process. Outside of that it was great.
Outlaw:
OK so pvp'ng. Is 90% fun the cool down timer on infamy is FOREVER and some people do feel all self righteous about anti pk'ng. I actually earned my first infamy points accidentally. I had decided to flag myself and sit on "The Bridge" in Lumbertown that everyone had to travel over (unless they were smart enough to use the river). While i was flagged i had no intention of killing anyone. I know I know crazy why flag for pvp if u don't want to kill someone. I just wanted to mess with people. Sleeping them as the ran over the bridge scaring the hell out of them and letting them go on their way. Then a group of people came along all uppity and decided to kill the capped player sleeping randoms (aka me). During my escape back over the bridge one of my jump back skills one shot a nub and BAM 200 infamy which is almost 17 hours of being flagged. I think infamy should have more consequences however the duration should be shortened. In KTera i'm told that people can not enter towns or use the instance matching system. My biggest issue w/ pvp and perma flagged outlaw is the HP bars glitching and during dungeons grinding everyone's bar is red just like the mob soo kind of problematic when trying to heal.
Instance Matching:
The instance matcher is VERY convenient and the rewards are remedial either way i'll use it just so i don't have to be glued to one spot to get started quickly. The only problem with it are warriors not being able to indicate tank or dps. If they can resolve that queue times will be dropped significantly. ATM lancers insta queue priests/mystics have a 20-40 minute wait and DPS is 30-50 minutes. The long queues are completed due to a lack of lancer tanks. I don't think removing the rewards will make any difference w/ the amount of people that use it. The rewards are nice but nothing to write home about. Joining a dungeon in progress gets u some buffed up charms and using it at all gets u 1 alkahest powder. OH also you should be able to use the instance matcher for as long as u have the repeats for the dungeon.
Bugs:
Found one annoying bug when duoing bams. If the mob if knocked down and aggro switches targets the mob gets up immediately and goes after the person the aggro has moved to. They need to adjust that so the mob stays down for the duration of the knockdown even when aggro changes.
BTW also posted in my blog linked below.
,-*'^'~*-.,_,.-*~ Sugar ~Priest~ Jagged Coast ~*-.,_,.-*~'^'*-,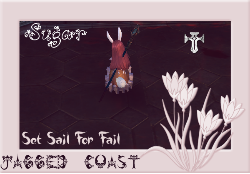 Blog
Set Sail for Fail Guild Website