Hey,
I'm a recent honour's bachelor graduate who has fallen in love with statistics. I'm really interested in seeing if there is any trends between who people are and what they are playing in Tera, all in the name of fun of course. I've created a really short survey (6 questions) and would really appreciate it if you guys/gals could take a minute to fill it out.
http://arvinlol.polldaddy.com/s/tera-stats
The 6 questions are: Age, Gender, Background, Character race, Character Gender and Character class. It should not take more than a minute to complete. Of course, once I have a significant amount of results, I'll run some stats on them and share it with you guys. And it wont be just looking at each question separately (how many lancers are there compared to warriors, etc.) but also together (Are Caucasian individuals under the age of 18 more likely to roll a slayer? Are the males more likely to roll an Elin?). Forgive my curiosity and thanks!
Arvin
________________________________________
Alright! We're at 1070 forms! Thanks to everyone who sent in their info! Here's the bit I did today on Background VS Character Race, and Background VS Character Class!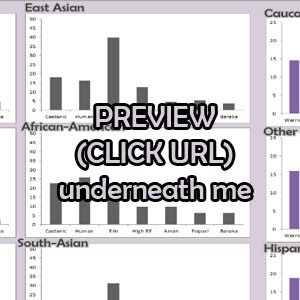 -->
http://i6.photobucket.com/albums/y234/Tokioh/charts3.jpg
The Y-Axis is in percentages of the total (example, 25% Caucasian Castanic out of 100% Caucasian players), and X-Axis are the categories. Again, I'll just you guys look at it, but I do feel the need to point out the East Asian Preference for Elins :D GO FIGURE. What do you guys think? What really pops out at you guys?
Updated: April 25/2012
________________________________________
On IRL Gender, age, and class:
The blue bars are for males, the red bars are for females. The X-axis is the age group, while the Y-axis is the percent of individuals of that gender who play that class. This should give a decent representation of what females/males in different age groups are selecting. N(m) is the total number of males in each group, and N(f) is the total number of females in each group.
-->
http://i46.tinypic.com/34yoepz.jpg
Just by looking at the graphs, there are quite a few things to discuss. General trends of the classes as a function of age, gender differences in certain classes, and which classes seem to be more popular in general for both males and females. I could just give you guys the breakdown, but discussion is always fun! Anything you see that's off from what you guys have experienced in game? Is there a certain combination of the survey questions you would like to see? Post away!
Updated: April 24/2012
___________________________________________________
On the separate questions:
Organization: [Answer choice] - [total number of individuals] - [percent of total]
1) Male - 723 - 85%
Female - 126 - 15%
2) Age - Average, 25.6 years old.
3) Caucasian - 602 - 71%
East Asian - 94 - 11%
Other - 55 - 07%
Hispanic - 35 - 04%
African American - 27 - 03%
South Asian - 26 - 03%
Middle Eastern - 05 - 01%
4) Castanic - 206 - 24%
Human - 189 - 22%
Elin - 157 - 19%
High Elf - 133 - 16%
Aman - 87 - 10%
Popori - 39 - 05%
Baraka - 32 - 04%
5) Male Character - 331 - 40%
Female Character - 506 - 60%
6) Warrior - 128 - 15%
Lancer - 123 - 15%
Slayer - 114 - 13%
Priest - 109 - 13%
Sorcerer - 106 - 13%
Beserker - 99 - 12%
Archer - 86 - 10%
Mystic - 80 - 09%
Updated: April 24/2012
_________________________________________________
Roughly 750 forms completed! Ive started a bit of the harder analysis, but since I haven't really given much info on age, here's a quick graph showing the distribution. The average age is 25.6.
Got a bit lazy. The X-axis is amount of individuals, and the Y-axis is the age group.
Updated: April 23/2012
_____________________________________________________
Edit: Also any suggestions are more than welcome! They bump the thread as well! Thanks guys! :D
Edit: As well, if you guys could quickly post anything after filling out a form just to help others find their way here, thatd be great. Lots of people are filling it out, but that doesnt keep the thread going <3
Special thank you to Insil for making things look pretty and organized.
Edited by:
Arvin
over 1 year ago