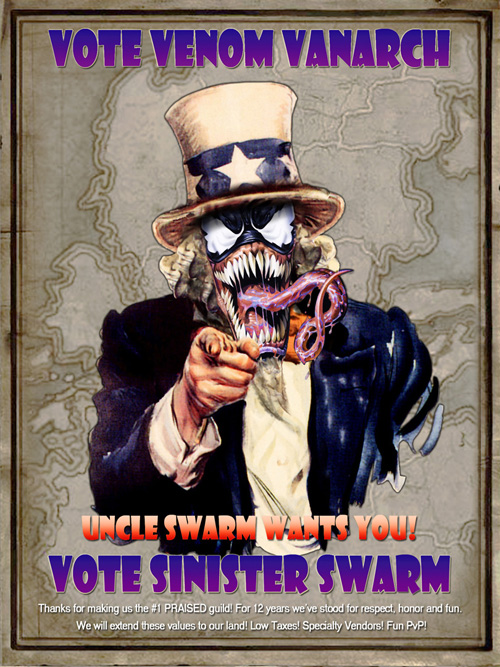 H O N O R - A B O V E - A L L - E L S E
Sinister Swarm, represented by our Guild Master, Venom, is running for Vanarch in the province of Lorcada. Lorcada is located in the continent of Northern Shara, which is near the city of Kaiator. We would really appreciate your vote and below we have some information about the Sinister Swarm and what we plan to do with our Vanarchy.
-------------------------------------------------------------------------------------------------
We would also like to extend a big thanks to everyone who has stopped to give us praise and helped us to be the...
TOP PRAISED GUILD on the server!
We have been conducting ourselves in a respectful manner, not because we want to impress you to vote/praise us, but because that has always been a core belief of ours. The high praise and player total also demonstrates that we are a very active guild, and you can count on us to remain that way. This means that we have the resources and the desire to maintain a great Vanarchy for everyone in the game.
We encourage PvP, we discourage griefing, but we also protect our own members as well as our friends.
About us:
For those of you who have the time to take a look or want to know more about us here is our website:
http://www.sinisterswarm.com
We are a mature, organized, and fun multi-gaming community that has been around for over 12 years, but you probably know of us because of our TERA players here on Jagged Coast. Some of the things that we stand for are Honor, Respect, no-trash talk, staying postive, being organized, and having fun. Here is also a link to our charter
http://www.sinisterswarm.com/forums/...ad.php?t=11574
What you can expect from our reign if elected Vanarch:
1 - We will be keeping the tax rates low! We have plenty of our own resources, so keep your money!
2- We will be opening the specialty store, trade broker, buffed cleric of restoration, and skill trainers ASAP! We will keep them open for the entire duration of our reign!
3 - We will be keeping PVP ON! This is a PVP server! We came here to PVP!
4 - We will also be hosting events and promoting GVG! (this can be removed if we don't plan on doing this, but it is a thought to add/modify)
Here at the Sinister Swarm we believe: HONOR above all else! We'll keep our campaign promises. We'll stick to our values whether you are a friend or an enemy. We put the class back in MMOs
-------------------------------------------------------------------------------------------------
Sinister Swarm as a PVP Guild
We waged war against numerous guilds on the Jagged Coast server. We have shown what it means to be on a competitive PvP server, we are not claiming to be the best, but we are very organized.
We don't mention this to demonstrate "power", we mention this because we feel it's important for a guild who runs a province to be organized and coordinated, and actually prove this in-game.
As points are required to keep all the shops open and running it will be important for the guild who get voted upon to be organized and active to make sure enough points are gathered. If this is not the case you'll have to fly back and forth to a lower leveling zone buy your items and resources there and move back to a higher leveling area to continue what you where doing. This will get very tedious and annoying not to mention costly for yourself over the long run.
-------------------------------------------------------------------------------------------------
Promotional Video:
http://www.youtube.com/watch?v=UTLVb3XXFss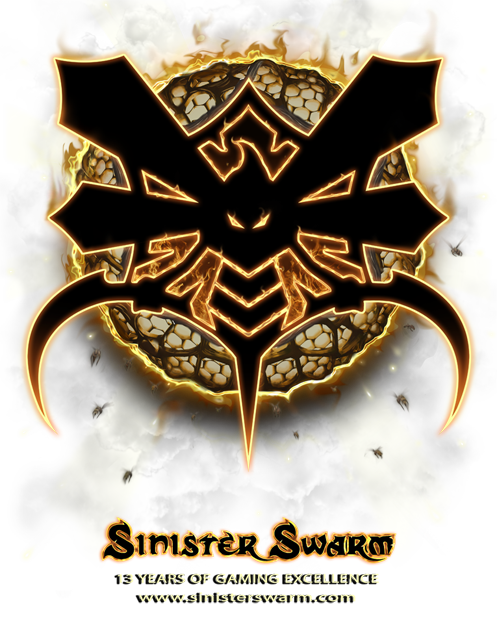 Edited by:
Bortak
over 1 year ago