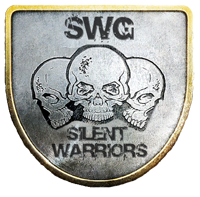 Silent Warriors Gaming
[SWG]
Welcome to
Tera
everyone!!
I hope everyone who got to play the five closed betas enjoyed this new action MMO as much as I did. For those who didn't get the opportunity; let's just say....
WHAT ARE YOU WAITING FOR??!? PRE-ORDER ALREADY!
SWG is recruiting for it's Tera Division and looking for quality members to fill out our ranks. We are an 11 year old gaming community that has a division in many different games (Allods, BF3, Rift, WoW, GW, GW2, SW:TOR, Firefall, EoN, and LOTRO). Once the application and short interview process is complete, you are a member of the family and will have access to some of the highest level guilds in each of these games.
[SWG] Tera Division is led by Brizyrr. You will either love or hate his accent!! (guys don't be jealous and girls don't swoon) Briz will be conducting all interviews for acceptance into the guild. So look for him and seek him out!
Who are you?
1. You are 18+ years old.
2. You have Teamspeak.
3. You are sociable.
4. You are drama free.
5. You want to have
FUN!!
[SWG] goals in Tera
1. End-game progression
2. PvE raiding
3. PvP battlegrounds when implemented
4. Politics!! We want to be in charge and make the rules in the game.
Interested??
Then please fill out an application on our website (under the tera division).
Next step is to log into our TS server and say hello. Please add (Tera app) at the end of your name in TS so that Brizyrr can interview you.
Website -
http://www.tera.swgaming.com/
Tera recruitment forums -
http://www.swgaming.com/topic/7835-tera-division-requirements-your-first-step/
You can also visit us on
Facebook -
http://www.facebook.com/silentwarriors
Twitter -
http://twitter.com/#!/clantsw
Youtube -
http://www.youtube.com/user/magetsw
Google+ -
https://plus.google.com/102549470709445191158/posts