YAY! Grats to the winners!! I look forward to seeing what you come up with next!!
How did it go? I am dying to know! Hope it went really well!
I don't know who this guy belongs to guild wise and it's not that important. I just figured it seems to be along the same guidelines as what was posted here. I do appologize that my answer wasn't more involved but there are limits on how long your message can be. Cameo, I was not trying to be rude to you at all. My stance may seem blunt yes, I do believe in speaking plainly. Frankly there is a 2 minute timer in game for a reason, to protect your loot for that long. If you can't loot within the game rules then it (by the game rules) becomes up for grabs.
Is it rude to pick up stuff someone is farming? I can see how you would feel that way. You did the work, you killed the mobs, you should reap the rewards. The one thing you are skipping right over is you had a chance to reap those rewards for 2 minutes before ANYONE else could touch it. You chose not to, so you took the chance of someone taking what was left on the ground. YOU were aware of the timer, by your own words, you knew what could happen. YOU took that chance. Do we all go looking to take someone elses loot, no. But if we happen across stuff laying there... heck yeah i try to pick stuff up. I do try to be thoughtful of those around me as well. Your response was to further add to the hostility of the situation, which resulted in you sending me these messages..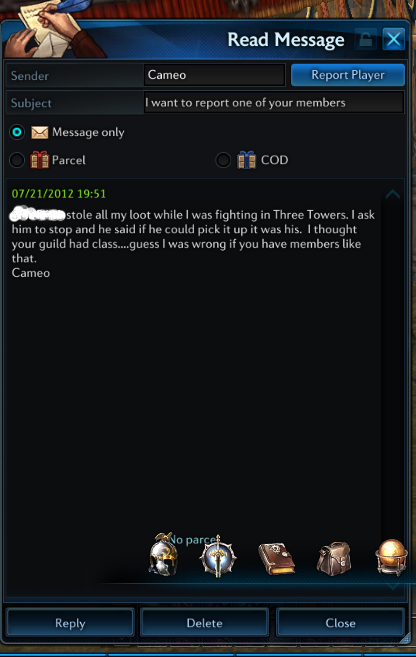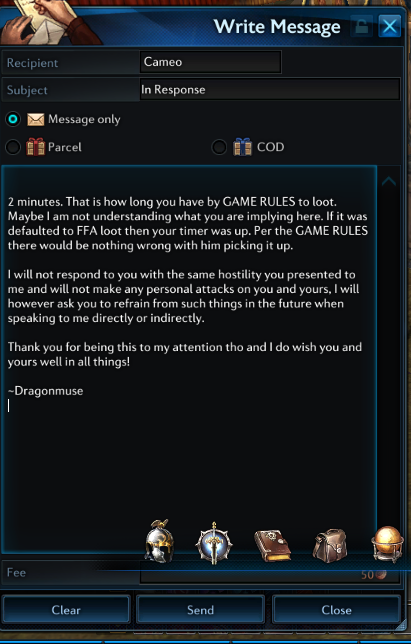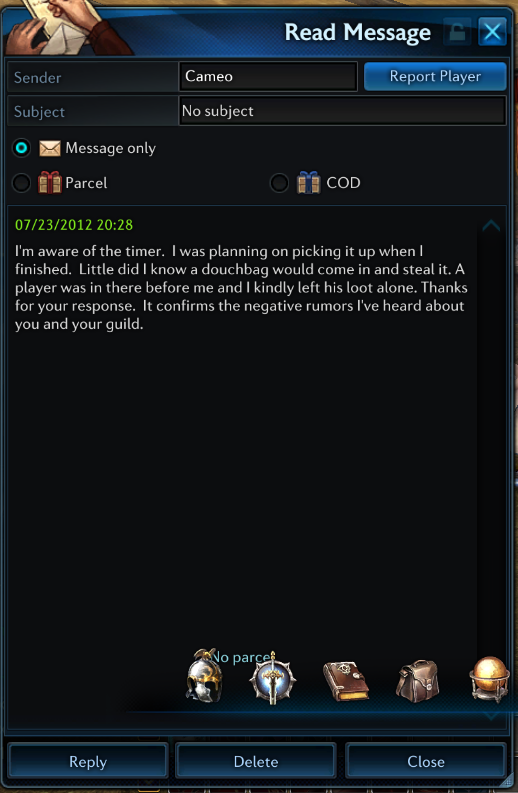 I do not feel this was a "polite" message from the start. I was made aware of the situation by the guildy that you feel offended you. At the start he was not aware it was your things, after your hostility towards him, he decided that he wouldn't give the things back. I do not believe either of you really conducted yourselves flawlessly, however, if you are going to throw stuff out there, make sure you are completely innocent yourself. Which you aren't.
I can't really comment on the situation itself because you make it sound like you were camping on top of the loot, he says otherwise. I wasn't there so I am not calling anyone on that. What I have is basic game rules to fall back on when asked to make a choice. GAME RULES state: 2 min timer on loot. After 2 min it becomes FREE GAME. I see both sides of the arguement, taking personal feelings out of it and you are left with game rules, which are there to be followed.
I agree with you Soarra. All we can do is try to change it thru giving back in the form of events and helping! Sort of a paying it forward i guess!

I do kinda chuckle a bit when we are asked why we do things for the community. Why shouldn't we? It makes more fun for all and that can't be bad!
GJ Soarra! I hope you have a great turn out! I will let my guild and alliance know as well !

Thanks for doing some fun events for the community!

~Dragonmuse
GM Enclave
HONOR Alliance
I don't have any issues with a 4% tax, however the one thing I have said is that Vanarchs tend to look at something different than I do i guess... that is the 3k gold registration fee. To me and my guild it is not something you HAVE to re-coup back, it is not a loss. It is a fee to have a chance at a Vanarchy. If you buy a burger you don't look to see how you are going to re-coup that money do you? So it isn't something that I worry about when running a Vanarchy.

I do not run a large guild, I do not run an alt guild, in our guild we allow alt characters. Our guild has operated under a 1% tax all 4 times we have had a Vanarchy and all 4 areas were different areas. We have kept the vendors and clerics open w/o fail. We have used Vanarchy flags yes, but I tried not to place them in annoying areas and only like 3 at most. We do not spam the community non-stop, but we are there to help. We try our best to put out fun events and get involved in the other events within the community. But I do feel like the Vanarchy system is being looked at as a piramid scheme to get rich quick, I have not seen any Vanarchs getting rich quick from it. However, this doesn't mean that the lower tax isn't the better one. Why not save your money if you can? 1-4% isn't a huge hike, no but let me share a story....

I knew a teacher, this teacher would pick up a penny off of the ground every time he saw one. The kids that he taught would tease him about it and some even threw change on the ground to watch him and then mock him afterwards. In one month he had over 100.00. In 1 year, he took a vacation with the money he had picked up.

I see both sides, that copper won't get you what you want immediately.... or will it when you add it to the rest? My guild will stay at 1% until the community as a whole decides they are willing to accept more than that. We enjoy serving the community. Vanarchy is an added bonus of things to do and adds to our enjoyment of the game, I hope it does for you too!

~Dragonmuse
GM Enclave
HONOR Alliance
Currently the HONOR Alliance is working on a few other things to do for the community. Events and such. Check out the DM event Lloye has going! We as an alliance never promoted ourselves to being able to stop every single negitive thing from happening in game, but we do promise to do our best to promote the positive. I am hoping as our ranks are swelling that we can very soon step into the field of battle and be in competition for GvG Vanarchs as well, we will have to see how it goes! Best of luck to all!

~Dragonmuse
GM of Enclave
HONOR Alliance